Compact | Quiet | Powerful
Reimagine Your Daily Wellness Routine
14.5mm amplitude reaches your tissues deeper than 60% of other massagers; Max 50lbs stall force deliver more effective massage and pain relief for maximum gains from training.
Unbelievably Quiet And Long-Lasting
Enjoy long and quiet massages thanks to the high-precision internal structure and shell built using sound-absorbing and drop-resistant materials.
Ergonomic Excellence
Apex brings you the easiest self-massage experience you have ever had. With zero strain to your wrist and finger, the massage gun works its way to pressure your sore muscles using its own weight. All you need to do is relax and enjoy.
Comfortable Design
Easy to use
Optimize Your Body with Opove Apex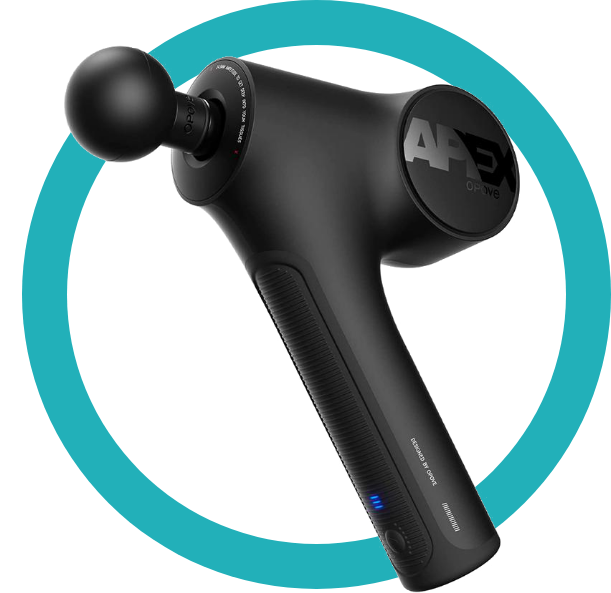 High-precision Structure
The high-precision structure will not deviate from the pressure point during a massage, making the massage more comfortable and efficient.
Quiet and Powerful
Opove motor delivers deep muscle treatment within a slim frame—and hardly any sound.
Easy to carry
Take it with you. At work or working from home, at the gym, or trailside on your run, Opove helps you move better and do more.
3-Speeds for your needs
For accelerated warm-up. Reducing muscle soreness and stiffness. Enhancing muscle performance. Different modes deliver what your body needs.
Streamline Frosted Appearance
OPOVE Apex's full coverage frosted design brings a luxury and future sense. The anti-slip silicone handle provides a safe and comfortable massage experience.
Easy-to-clean attachments
OPOVE Apex's functional full-frosted design has a luxurious and futuristic feel. The anti-slip silicone handle enables you to enjoy a safe and comfortable massage experience.
Easy One-button Design
The one-button design helps you cycle through all three speeds without raising a finger.
Premium Motor
A quiet and powerful brushless motor delivers a stable, durable, and efficient stimulation for your muscles. 
Visible Motor
The exquisite see-through design reveals not only the OPOVE Powerful Brushless High-Torque Motor, but it also brings a higher interaction with our users.
Tailored for Your Body
Neck, Spine, and Achilles
Deep Muscle Tissue and Precision Massage
Major Muscle Groups
Sensitive for Neck, Joints and Bones
Opove APEX
What's Included
OPOVE APEX

The actual device

Protective Carrying Case

Stay organized

6 Massage Heads

The right heads for all your needs

Battery Charger

To keep your device charged nomatter where you are

Product Manual

Get started easily
Great tool for a good price
I really like this massage tool. I use it as the final phase of post exercise care.
New and improved!!!
After years of solid use and abuse of the old Opove model, I was worried about the changes. This new model somehow is proving to outperform what I already thought was perfect. I'm blown away with the strength, low sound level, the ergonomics, and battery life. Extra thanks for the new soft attachment for getting closer to joints. Couldn't be happier. Thanks!
How Have I Gone On This Long Without This?!?!?!
Our family loves this! We are all pretty active and are so grateful for this massage gun!!! It's been an amazing edition to our self care options! Great product and impressed so far!
Very Helpful
I injured my shoulder playing pickle ball and went to physical therapy. My therapist used a massage gun and I loved it. I researched them for myself and I read that the Opove Apex had a more ergonomic handle and was quieter so that's what I chose. I'm so glad I did. I have used it on my friends and we all love it.